Short Term Bridging Finance Loans Can Help
Over the past 20+ years as a mortgage adviser I've seen plenty of times where short term bridging finance loans have helped people manage their way through some difficult times, and this way have managed to get into a lot better long-term financial position.
You may have heard the saying "short term paid for long term gain" and this is exactly what bridging finance is.
There can be short term paid as bridging finance is not the cheapest finance option, but there is still a place to use it.
Now if you are prepared to take on the extra costs (the short term pain) then you want to know that there is a real long term gain.
But Bridging Finance Loans Are
Expensive!
Yes, they can be expensive especially when you just look at the fees and interest rates.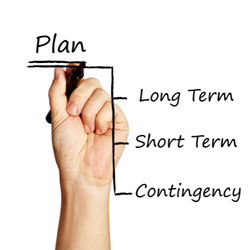 Of course there are benefits too!
The whole idea of bridging finance is to "bridge" the gap between one position and another.  Generally that is firstly a bad financial position and then moving to a good (or better) financial position.
You should always have a plan, and if bridging finance loans are part of the overall plan then that is fine.
Your plan needs to be affordable, or at least have a plan to cover the costs.
There needs to be an exit strategy too – that is how you get out of the short-term finance.
Most lenders that offer bridging finance will want to know what the exit strategy is, and they need to be comfortable that it is achievable too. Advisers that specialise in this type of non-bank lending will know this and discuss this as part of the overall plan, but even if they don't then you need to know what the exit will be, and have a contingency too.
When Bridging Finance Loans Make Sense
The key things to consider with any bridging type loan is to ensure that it is short-term and has a clear exit.
If you know the costs (fees and interest rates) then you can make a clear assessment and compare to any other alternatives. You can calculate what a loan like this would cost compared to any alternatives, and this will quickly tell you if a bridging loan is a good option for you.
While no two situations are the same, there are a number of common times where a bridging loan may be suitable.
Some of the recent bridging loans we have done are:
Our clients have purchased a new home and sold their existing home, but the settlement on their sale happens after they need to complete the purchase. In this case the bank was able to offer bridging finance.
Our client has his home on the market, but wanted to secure a section where he will build his new home. We arranged a loan for 6-months which enabled him to secure the section while giving him time to get his existing home sold.
Our clients had a tax debt and their bank was not interested in providing a top up so they could pay the debt. In this case we were able to arrange a short-term loan to cover the tax debt and then refinance back to the bank once it was all paid.
Our clients wanted to buy a business but had some account conduct issues and so their bank said "no" when they tried to get the finance. Instead we used a short-term bridging loan to they could buy the business with them getting refinanced in just over 3-months.
Our client was going through a separation and needed to pay a settlement to his ex-wife. This was time critical and he had not been doing the hours so his income was lower than it needed to be for the bank. A bridging loan provided the money to tidy up the separation and within 6-months we could refinance to a bank.
Our client needed money to complete renovations on her home before selling to shift towns. Due to the pending shift she was between jobs and so her bank could not (would not) help and so we arranged a short-term bridging finance loan so she could complete the renovations.
Our client had been bankrupt and the banks were unwilling to provide a home loan to her. We knew that she had only 18-months to go before her credit score would be restored and the past bankruptcy would no longer show so bridging finance was a good alternative.
There are so many reasons to consider bridging finance, and of course it's something we are doing all of the time.