Sometimes We Need A Fresh Start
We cannot dwell on the past, but unfortunately the banks often do and penalise us for years after we have had something go wrong.
A default will stick on our credit reports for 5-years after being listed and when the banks see this "bad credit" they will typically decline lending applications.
We say typically because there is one bank that will offer you a fresh start, and they even call it a Fresh Start Home Loan.
About A Fresh Start Home Loan
The Fresh Start Home Loan is offered by the New Zealand owned bank; Co-Operative Bank.
This loan is designed for people that have had some credit issues – bad credit
The Co-operative Bank specialty lending is designed for people who have/have had previous credit problems, and are considered to be outside the normal home loan criteria of banks. Credit problems may cover adverse items on a credit report, loan arrears, a discharged bankrupt, or an outstanding Property Law Notice.
The criteria includes;
A maximum loan to value (LVR) of 80%
The credit issues must be determined as a one-off issue and have a fair explanation
The Loan purpose must be for the purchase or re-finance of an owner occupied property
What's the catch?
The interest is higher than normal bank interest and even higher than what some of the non bank lenders might offer.
The interest for a Fresh Start Home Loan is 2.00% higher than the banks advertised home loan interest rates, but they will add this low equity margin to the special rates. The low equity margin remains for 12-months at which time the bank will review  your account conduct and if  the loan has been  managed to the banks satisfaction the margin will be removed. Most people will opt for a 12-month fixed rate as this is the lowest rate available and matches with the time-frame needed before the low equity margin can be removed.
It's a bit like having bridging finance for 12-months but with the benefit that there is a predetermined exit to a bank loan.
As mentioned the interest rate that you pay for the initial 12-months might be higher than some non bank lenders, but given that the low equity margin gets removed it is typically a good option to consider. Your mortgage broker can give you more detailed advice on this.
How To Apply For A Fresh Start Home Loan
You could contact the Co-Operative Bank directly to arrange a Fresh Start Home Loan or you could contact a specialist broker to arrange the loan application for you.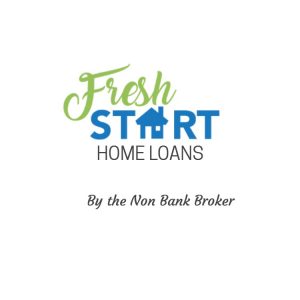 So you have a choice;
You could approach the bank directly. The problem with going direct to the bank is that you only get one chance and if you present your application wrong then you could have the application declined.

You could approach a standard mortgage broker.

The problem with going to a standard mortgage broker is that most do not specialise in these types of applications. Like going directly to the bank you only get one chance and if the broker presents your application wrong then you could have the application declined.

You could talk to a specialist non bank broker.

There are only a few New Zealand mortgage brokers that regularly work with the more difficult home loans and I am one of those brokers. You deserve the best chance of success and therefore should use a broker who has experience and knowledge in this area. Most brokers are ex-bankers and deal almost exclusively with the banks on standard home loans.
Read about the recent success that we had with a couple from Bay of Plenty: CLICK HERE
Of course, I would love to help you source a home loan and believe I will be your best option.